SkyControl Panel 2.0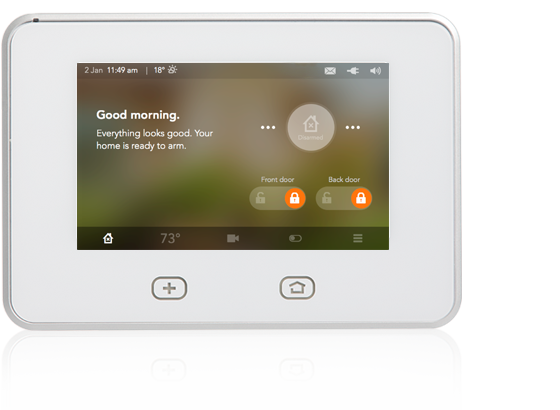 The Vivint SkyControl panel offers the latest in smart home technology, including a 7" touchscreen, a new mobile app, on-screen video, and faster updates.
FAQ
What do the LED light colors mean on my panel?

The home button on your panel will glow different colors depending on the status of your home. When the home button glows green when your home is ready to arm. When your home is armed, the home button will glow red. When your home is not ready to arm, the home button will glow orange.

Why does the menu bar along the bottom of my panel change?

The menu along the bottom of the screen will change to reflect the status of your home. In the left corner, there will be a house icon that reflects whether your home is unarmed, armed staying or armed leaving. In the middle, the current temperature of your home will be reflected, and in the right corner there is a static menu icon.
Can't find what you were looking for?
Call 855.898.8908