Vivint Sky App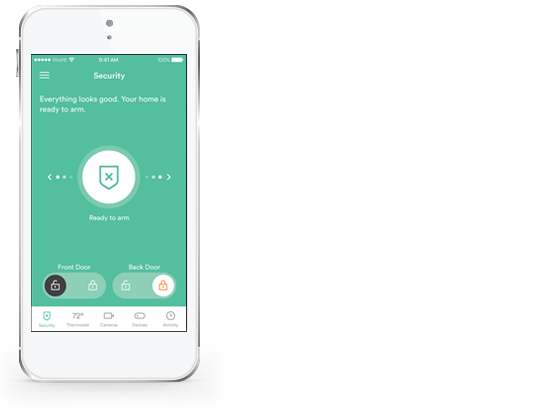 The Vivint Sky Mobile App always connects you to what really matters. Remotely control your home from anywhere so you can always be connected.
FAQ
Why am I getting texts instead of push notifications?

If you are currently signed out of your Vivint Sky app, you will receive text notifications of system events rather than push notifications from the app. In order to receive push notifications, make sure you are logged into your app .

Will Smart Assistant use my previous schedule preferences?

Yes, Smart Assistant will take into account your previous schedule preferences to create your state temperature settings. However, if you are a new customer and never had schedules, Smart Assistant will help you set your preferences with defaults. If you would like to change your temperature preferences, click here to learn how.

Does Smart Assistant arm my home when I'm away, sleeping or on vacation?

No, Smart Assistant will not arm your system for you. It will, however, notice when you arm to help decide when to conserve energy.

What is Smart Assistant?

Smart Assistant is a learning intelligence that uses the sensors in your home and the status of your SkyControl (armed/disarmed) to determine if you are home and adjusts your thermostat for you. You can also enable the location services on your mobile phone to help Smart Assistant know when you are home or away. It will learn when you wake up, get home from work, go to bed for the night and much more in order to keep your home at a comfortable temperature when you are there and conserve energy when you're not. Smart Assistant will also detect if you are on vacation so you don't have to worry about adjusting the thermostat before you leave.

What can I do with the Vivint Sky App?

The Vivint Sky app gives you access and control to your home from anywhere. Using the mobile app, you can adjust the temperature of home, lock and unlock doors, arm or disarm your system, view live and recorded video feed, access your system history and more.

Is there a way to get a quick update on my home's status from the Vivint sky app?

Yes! Depending on your device, a menu bar featuring 5 dynamic icons will be displayed either along the top or bottom. The icons will reflect any adjustments made within your home. For example, the menu will reflect the current temperature of your home.

What if I have multiple door locks? Is there a way to lock them all at once?

Yes. If you have 3 or more door locks, a button will appear under the house icon that gives you the option to lock all your doors at once. Note, this button will not be displayed if all the doors are already locked.

Are there automation rules that I can set up for my home?

Vivint aims to make it easy to live a simply smarter life, and one way that is accomplished is through automation. That's why we've created automation rules you can easily configure to fit your lifestyle from your mobile device. From the 'menu' screen, tap 'automation.' For your convenience, you will see a list of common automation rules that you can simply toggle on or off.

What can an Admin user do that a standard user can't?

Admin users can create and manage new users, change system settings view live and recorded videos, and configure automation rules, as well as control all the devices in your home. Standard users can only adjust thermostats, arm and disarm the security system, and control locks and lighting modules.

Is there a way I can be notified on my mobile device when something happens in my home?

To always stay connected to your home, you can be notified when anything out of the ordinary happens. For example, if you had to leave the kids home alone for a night, you can be notified if a door or window is left open. To configure these notifications, tap 'Notifications' from the menu screen. You will see a list of notifications rules you can choose to enable or disable for your home. If you have enabled your smartphone to receive push notifications, your home will send you these notifications there. If push notifications are disabled or not available on your device, the notifications will be sent as a text message. Without your telephone number, these notifications will be sent by email.
Can't find what you were looking for?
Call 855.898.8908