Connect to Vivint
In order to connect your Nest thermostat to your Vivint Smart Home system, you will need to have your Nest fully set up, including your Nest login credentials and your SkyControl or Smart Hub will need to be updated to the latest firmware. To get the latest firmware, contact customer care and ask for your panel to be updated. When you have your Nest and your SkyControl or Smart Hub ready, follow the steps below:
1
Install the Nest App for Android or iPhone. All other phones can use a mobile browser.
2
Create a Nest account by launching the Nest App and select Sign Up. Or, you can go to Nest.com and click the Account icon then click Sign Up.
3
Set up your account and make sure you are logged in.
Add your thermostat to the Nest app
1
Open the app
If no devices are paired, tap the plus icon.
If there is a device added, tap the Settings gear icon.
2
Tap Add Product and select Continue without scanning.
3
Tap Nest Thermostat and select the Nest you're adding.
4
Tap Thermostat already installed, the Entry Key screen will pull up.
5
Walk to your Nest thermostat and press its face.
6
Select Settings and then Nest App.
7
Select Get Entry Key, then input the generated key into the Nest app.
8
Test commands from the Nest app to ensure you can remotely control your thermostat.
Add your Nest thermostat to your Vivnt panel
1
Go to vivint.com/nest and log in using your Nest account credentials.
These will be the primary Nest user's credentials listed on the thermostat under Settings>Nest App.
2
Click Continue and then Allow.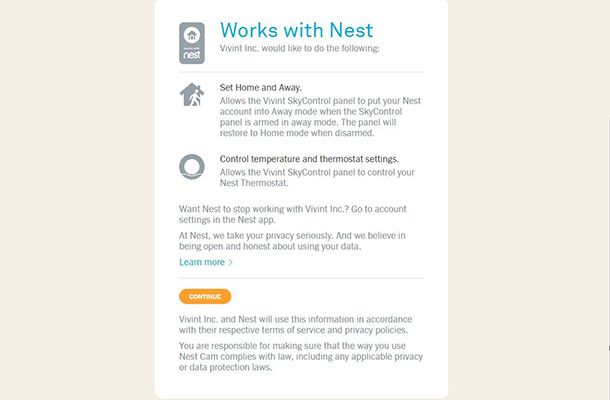 3
An 8-character PIN will be generated. Write down/take a picture of the PIN to enter it into the panel.
4
From the home screen of your SkyControl or Smart Hub, tap the Menu icon in the lower right corner.
5
Tap Devices and enter your 4-digit PIN.
6
Tap Add new device and then tap Nest.
7
Tap Continue, then input the 8-character PIN and tap Connect.
8
Wait for it to fully load and show the thermostats that are on the Nest account.
9
Move the slider to the right for each thermostat you want to control from the Vivint panel/app.
If this screen shows the Nest account is connected but there are no thermostats listed, confirm that you used the primary Nest user's credentials to generate the vivint.com/nest PIN. If not, return to step 1 and repeat the process with the primary Nest user's credentials.
10
To make sure your Nest thermostat works properly with your Vivint system, make sure you turn off Nest Sense Features. This can be done from the Nest app or account.
11
Test commands from your Vivnt panel or Smart app to confirm you can remotely control your Nest thermostat.
Did this answer your question?
For more help, chat or send us a message.
Call 855.898.8908