Enable Away Temperature
This setting allows your thermostat to automatically adjust the temperature by 10°F when you arm your system to Away. If you're in cooling mode, it will be 10 degrees warmer and vice versa for heating mode.
To enable this feature, complete the following: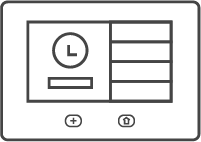 SkyControl Users:
2
Go to the gear icon in the top right and select 'Devices'
3
Select your thermostat from the devices
4
To the right of 'Security state' click 'Edit away'
5
Toggle the status on or off
6
Use the arrows to set your heat and cool temperatures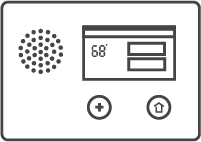 Go!Control Users:
4
Choose the 'Thermostats' option
5
Under the box 'Set the temperature,' use the toggle switch to turn the Away from Home Thermostat Override on or off
6
When turning it on, specify which temperatures the system should use in either heating or cooling mode and what temperature you'd like when you return home
7
Click 'Save' to save your settings
Did this answer your question?
For more help, chat or send us a message.
Call 855.898.8908