Set Up a Fixed Camera
Normally, a Vivint Smart Home Professional will install and position your Vivint cameras, but after installation you can move your cameras wherever you want. If your camera loses connection or if you change your wifi provider, you may need to reinstall it to your router.
To install your Vivint fixed camera, complete the following steps: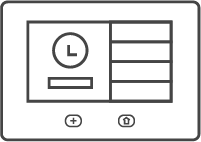 SkyControl Users:
1
Plug in your camera within the wifi range of your home router
2
Go to your panel and tap the menu in the bottom right corner (three horizontal bars)
5
Scroll down and tap 'Installer toolbox'
6
Enter your installer code. If you are not sure what your code is or you are having problems getting into the installer toolbox, chat in for assistance
8
Tap 'Add Camera' in the top right corner
9
Go to your Fixed Camera and hold down the WPS button until the light starts to flash yellow
10
The panel will indicate that the camera was found. When the camera is done connecting, the light will turn solid green. This can take a few minutes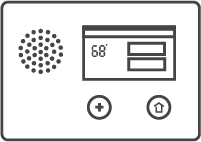 Go!Control Users:
1
Connect the camera to your router with an Ethernet cable
2
Plug the camera's power cord in and wait for the light on the front of the camera to turn green. This can take a few minutes
3
Once the light is green, go to your computer and log in to the online account center and click 'Control my home' (NOTE: Do not use the Safari browser on a Mac or your installation will fail. You can view the camera through your online account from Safari, but you can not install it from this particular browser)
4
Go to the Live Video sub tab under the Video tab
5
Click the link that says 'Click here to add a camera to this account.' This will take you through an installation wizard
6
Click the 'Find Cameras' button. A list of available cameras will be displayed. Usually, the camera you're trying to install will be the only one to show up. To be sure, make sure the MAC address matches the one on the label on the back of your camera
7
Select the camera that you want to add and click 'Continue'
8
Name your camera and click 'Continue' again. It may take a few minutes to finish the configuration
9
Once it's configured, click on 'Configure Wireless Network Settings for This Camera'
10
Choose the 'Scan for Wireless Networks' button and select your home wireless network OR enter the name of your home wireless network, the encryption type, and the wireless network password
12
Once that is all saved, you can disconnect your camera from your router and move it to where ever you would like it in your home. It must be close enough to your router to get a signal. If the camera has trouble connecting where you place it, you may need a wifi extender. You can purchase wifi extenders at most electronic stores
Did this answer your question?
For more help, chat or send us a message.
Call 855.898.8908