Set Heating & Cooling Schedules
Heating and cooling schedules allow you to set your thermostat to heat or cool to specific temperatures automatically during certain times of the week or month. This feature is especially handy for helping you save energy at home by making sure your thermostat isn't running when you're not home.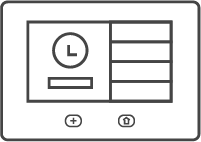 SkyControl Users:
Click here to learn how to edit thermostat schedules from your Vivint Sky app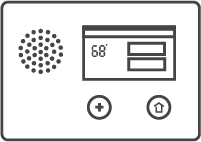 Go!Control Users:
3
Choose the 'emPower' tab
4
Choose the 'Thermostats' option
5
Choose 'Heating/Cooling Schedules'
6
Right above the calendar there are tabs that will let you select heating or cooling schedules
7
There will be a weekly calendar below with a slider that you can set the time frame and select the desired temperature
8
If you want to copy a specific schedule to multiple days of the week, check the 'Copy Schedule To' check box and select the days of the week you'd like to copy it to
9
To load a pre-set schedule, click 'Pre-set Schedules' in the top right area of the calendar and select the schedule you'd like to load
10
Click 'Save' to save your settings
Did this answer your question?
For more help, chat or send us a message.
Call 855.898.8908