Adjust Video Motion Detection
There are three settings that directly affect the motion detection performance of your Vivint indoor camera. Below is a description of what each setting is and how to optimize them.
Motion Detection Box: This is the area in which your camera looks for motion. For optimum results, it is best to have a smaller box that is located where someone is most likely to pass through. The larger the box is, the more likely you are to get false motion detection. For example, if your camera is watching a hallway, your motion detection box only needs to cover a small box where people will pass through. You can also add more than one box for the indoor camera to capture motion. It is best not to place your motion detection boxes on windows, lights, plants or fans. (Lights can cause false motion detection) This allows you to avoid capturing videos of the tree outside the window or the fan moving.
Target Size: The target size is the percent of your motion detection box that needs to be displaced or change to trigger motion detection. For example, if you have a small detection box that someone will walk through, you may want to set the target size to 50% or more to ensure you catch a person and not a cat walking by.
Sensitivity: The sensitivity is best left around 85 for optimum results.
To learn how to adjust your video motion detection settings, follow the steps below based on your panel type.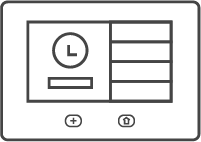 SkyControl Users:
1
Go to your SkyControl panel and tap the menu button in the bottom right corner (three horizontal lines)
5
Select your fixed camera that you would like to edit
7
Use the touch screen to adjust the size and placement of the motion detection area. You can also add additional areas. Use the sliders on the right to adjust the sensitivity and target area settings
8
Go back to the camera settings menu to save your changes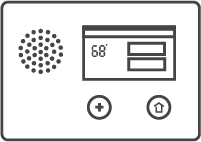 Go!Control Users:
3
Go to the Video tab and click 'Camera Settings'
4
Click 'Video Motion Detection'
5
In the "Choose a VMD window" dropdown menu, choose 1, 2, or 3. In the video window, there will be a corresponding box for the option you've selected
6
By clicking and dragging the box, you can re-size your window and choose the specific part of the video screen that you want to monitor
7
Once you've set the location and size of your window, use the slider bar on the right to change the sensitivity for each window. This will set how much motion or how big the object needs to be to trigger a recording (1 being the lowest, 10 the highest)
8
When you're finished setting your motion detection windows, click 'Save' before leaving the page
Did this answer your question?
For more help, chat or send us a message.
Call 855.898.8908