Use Preset Schedules
We've created several preset schedules that you can apply to your thermostat to save money or just to save time from creating your own schedules.
To use a preset schedule, complete the following steps: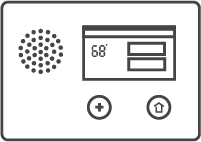 Go!Control Users Only:
3
Choose the 'emPower' tab
4
Choose the 'Thermostats' option
5
Choose 'Heating/Cooling Schedules'
6
Right above the calendar there are tabs that will let you select heating or cooling schedules
7
Choose Preset Schedules in the top right area of the calendar and select the schedule you'd like to load
8
Click 'Save' to save your settings
Did this answer your question?
For more help, chat or send us a message.
Call 855.898.8908