SkyControl™ 3.0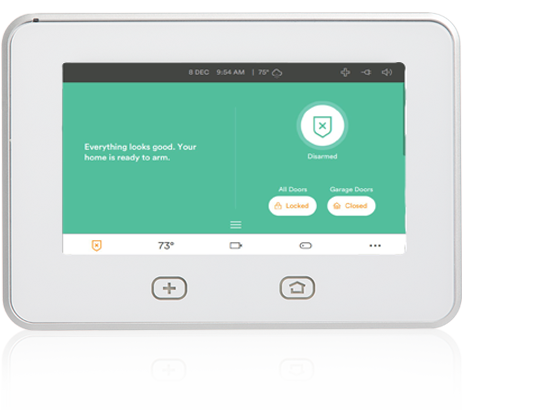 The SkyControl is the hub of the Vivint Smart Home. It offers the latest in smart home technology, including a 7" touchscreen, a new mobile app, on-screen video, and faster updates.
FAQ
Do I ever need to replace the battery in my SkyControl?

No. The battery in the SkyControl is a rechargeable, backup battery. If your panel loses power due to being unplugged or a home power outage, the backup battery will keep your system running. However, you may receive a panel low battery alert if your panel goes without power for too long. You can acknowledge the alert to stop the panel from beeping. The battery will recharge once power is restored.

In rare cases, the backup battery in the SkyControl can go bad. This is evident if the low battery alert appears immediately after a power loss. In this case, contact support for assistance in replacing the battery.

What rights do panel admin users have?

Granting admin rights to a user will allow them to access settings on the panel, including users, panel security and networking options. It will also allow the user to create custom rules and notifications via the mobile app

Why is my panel beeping?

You're panel will beep for two reasons. When the system is armed and a door or window is opened, the panel will begin to beep a countdown for you to disarm the system before an alarm is triggered.

The other reason that your panel would beep is to alert you of a notification. Click here to learn about panel alerts and notifications.
Can't find what you were looking for?
Call 855.898.8908