Storage Full
Your Space Monkey has a full terabyte of storage available for you to store photos, files, and videos. If your Space Monkey is full, you will see a screen like the one below in your Space Monkey app settings screen. When your Space Monkey is full, you will not be able to upload any additional content like photos. If you would like to go through and delete some of your old content so that you can save new content, you can do that through your mobile app or the web app. However, when you delete an item off of your Space Monkey, the space will not be available immediately. The Space Monkey continues to hold that data in a garbage folder in case something is deleted by mistake.
In order to free up the space, please email support@spacemonkey.com with your first and last name, the email address on the account, and a request to run 'Garbage Collection' on your Space Monkey.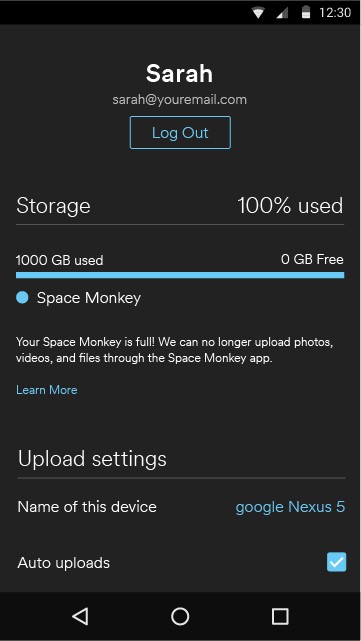 Did this answer your question?
For more help, chat or send us a message.
Call 855.898.8908